Occupational Health and Safety
Our experts at MNC Consulting Group HRM Limited have established that employee's safety and wellbeing in work places is taken for granted. Improving employee's welfare in the workplace is an important step in caring for employees and improving the performance of any organization. One way to prioritize employee well-being is to develop an employee well-being strategy that can be continuously developed to create a healthy workplace.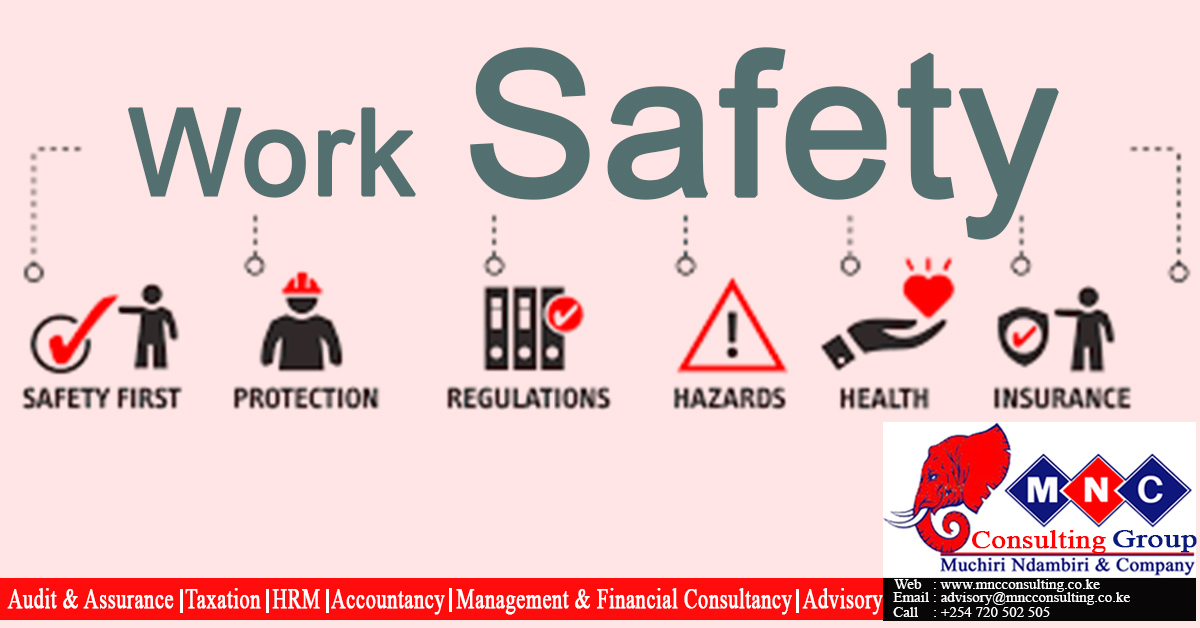 At MNC Consulting Group HRM Limited we help your organization draft Employee Welfare Strategies that focus on the financial, physical and psychological well-being of employees.
Psychological/ Social wellbeing -The aspect focuses on the positive emotions of the employee and ensuring that they work in the right environment both emotionally and mentally.
Physical aspect – This ensures employees physical health and safety are put into consideration.
Financial/ budget planning – This ensures employees are well informed of the dangers of bad debts and debt management, retirement plans, etc.
We help you implement short-term and long-term positive and preventative approaches needed to help people succeed at work.
Our experts have deduced that a well-thought-out and implemented Occupation health strategy result to an increase in employee involvement and improve the overall company performance.
Our HR team of experts have complied a list of occupational health and safety regulations that work as a guide for your business;
Occupational health & safety at work regulations: It helps you to manage and assess risks that employees are exposed to in their day to day activities.
Health, safety and welfare regulations: This covers the accommodation requirements for the work place environment.
Display screen equipment regulations: Shows the actions you need to take to ensure the wellbeing of staff when using display screen equipment's.
Personal protective equipment at work regulations: Shows where risks aren't manageable through other means, you should use PPEs e.g. facemasks, gloves, gumboots and helmets.
Manual handling operations regulations: This shows the health & safety guidelines when employees lift and transport things around your business premises.
Provide and guide on the use of work equipment regulations: Ensures you make available adequate gear and equipment's for the employees.
Reporting on injuries and dangerous occurrences regulations: Employers must report all incidents in the workplace.
Working time regulations: Establishes the maximum legal working hours for your employees.