Recruitment and Selection Outsourcing
Recruitment and selection is the process of identifying a job's necessity, outlining the positions and job holder's qualifications, advertising the position, and selecting the best candidate for the job.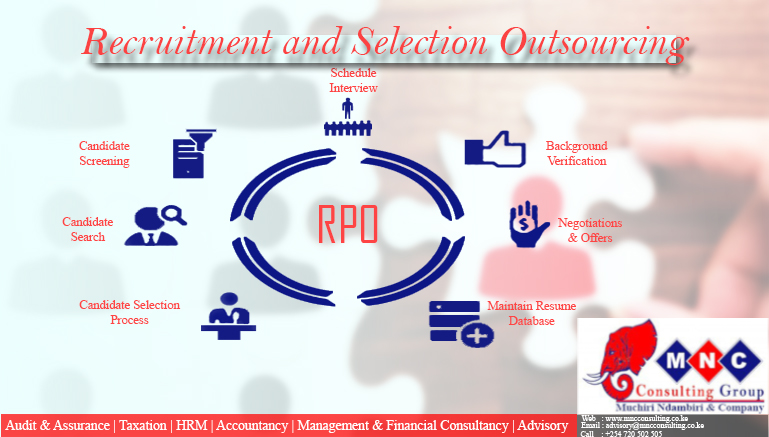 At MNC, our human resources experts understand that selecting the right employee is a key driver to the growth of any organization.
Why should you consider Recruitment Process outsourcing
It shortens the time it takes to fill your open position
Increases the ability to acquire high-quality candidates. Our human resource expert understands the candidate's needs and the requirement of our clients to make a great match.
Through Recruitment Process Outsourcing, a business can focus on serving its clients
Through outsourcing employers gets knowledge of the market, such as valuable insight into the salaries rate, available skills, and current hiring complexities.
At MNC, we have adopted a systematic process of recruitment and selection;
We analyze our client's job requirements.
We write compelling jobs adverts to maximize the number of people who apply.
We effectively screen candidates to check out the strongest candidate against job requirements.
We shortlist the candidates from a pool of applicants.
Our human resources conduct interviews with the shortlisted candidates which involves conducting an aptitude test, intelligence test, performance test, and personality test.
We check references to verify the candidate's character and get more information about the candidate's work ethics
We extend a job offer to the qualified and suitable candidate where he/she is given an salary offer based on our client's budget
After we select the qualified candidate and offer him/her job, we keep records for the other shortlisted candidates on our database for future consideration.
Why consult us for Recruitment Process Outsourcing (RPO) services
At MNC, we save our clients time by acquiring qualified candidates and filling the open position faster. We also work with our clients to scope and examine the requirement of their roles to determine the main skills and qualifications required which leads to the growth of their business. Due to our experienced human resource experts, we have gained a great reputation in the industries we work for.
If you need to quickly fill in an open position/role in your organization with suitable and qualified candidate, contact MNC today! Let's work together for the success and growth of your organization