Employee Pay and Benefits
Employee's pay and benefits offers job satisfaction, commitment and loyalty. pay and benefits are used as managerial tactics to outdo competitors by attracting and retaining highly skilled employees. Firms that desire to expand their market share understand that employees are the drivers to achievement of organizational goals and objectives.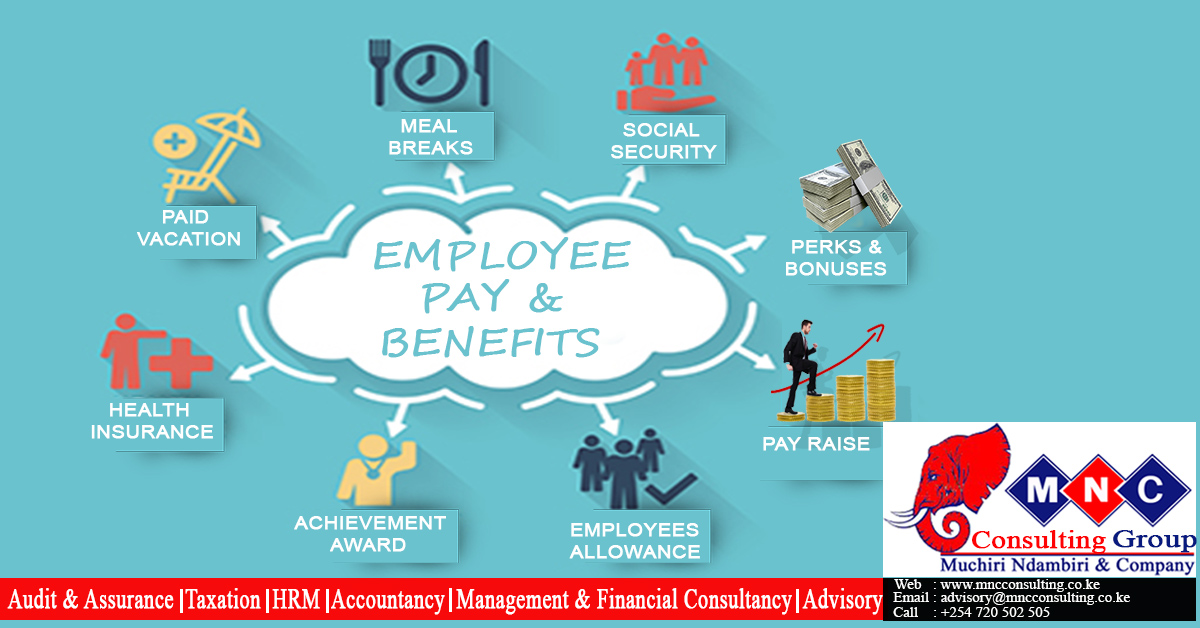 At MNC, we put our team of consultants in your firm to assess the most ideal benefits strategy to maximize your firms return on investment.
Through our experience, we offer our clients opportunities to reshape their firms through modern work benefits. We help to;
Design new and re-design existing compensation and reward strategies,
Develop new policies to analyze existing contracts in detail,
Design and maintain new payroll systems,
What is the gain in adopting proper pay and benefits schemes?
In this current business economy, it is not easier in attracting and retaining employees. We understand that when you value your employees, it becomes easier for them to come in for work. We continuously advice our clients to seek our consultants so as to gain competitive advantage over the growing number of competitors.
To this extent, we are proud to have spearheaded our clients' firms into the next growth phase. Through our expert consultant's advice;
Employees loyalty is hastened,
Employees enjoy job satisfaction and,
Firms increase productivity and profitability when employees are happy.
What we are offering our clients
Through our broad consultancy services, we are able to provide avid solutions that meet your needs in;
Reward strategy and audit,
Incentives and recognition,
Employee benefits
Job analysis,
Job evaluation,
Pensions and auto-enrolment,
Pay and benefits benchmarking and,
Payroll solution.
Why we recommend you choose us
We have been characterized by our avid and vigorous pursuit to provide world class services to our clients. Our HR consultant's policy in maintaining high professionalism has accorded them recognition in Kenya as one of the best in matters relating to employees compensations. We understand that employees carry the brand name of the firm and therefore, we are focused and do not compromise on matters related with such.