Performance Appraisal
Performance appraisal is a structured assessment of the performance of employees and to grasp the capabilities of an individual for additional growth and development.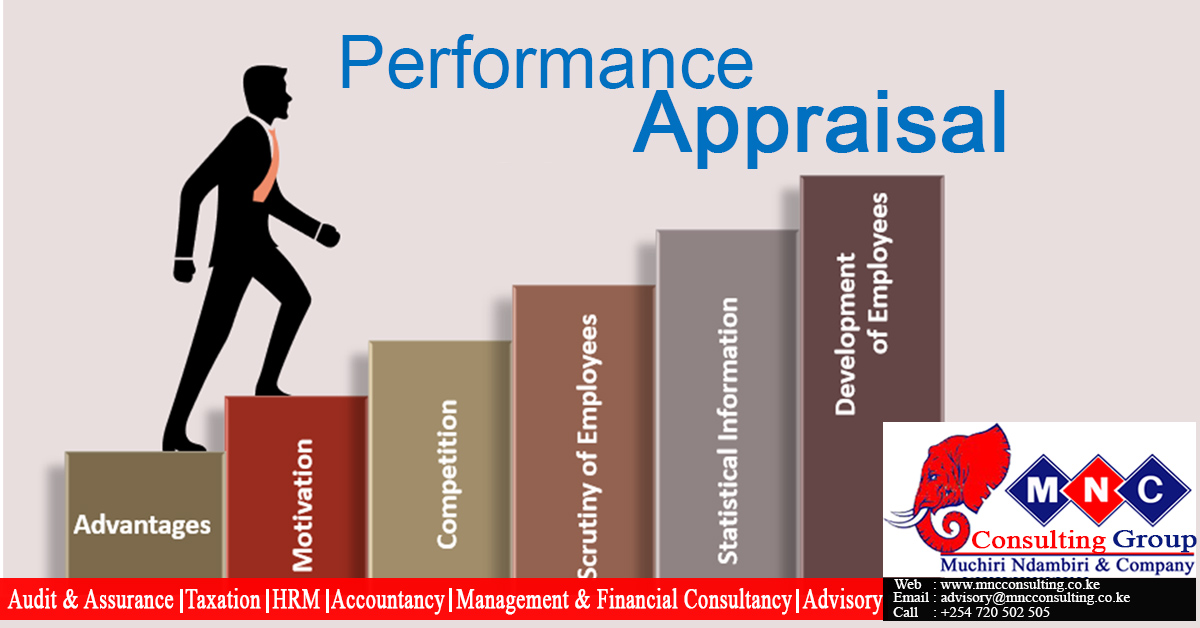 Performance appraisal plays a key role in efficiently managing human resources. None-the-less, it is a major catalyst to improving and boosting employee productivity because it is directly related to an employee's skills assessing their strengths and weakness.
Through this comprehensive knowledge, we have established ourselves in guiding our clients through well-structured performance appraisals that observe;
Relevance to ensure that the employee meets the goals and objectives of the organization.
Efficiency so as to ascertain that the employee completes his or her assignment on time and in a cost effective manner.
Effectiveness so as to cater for supportive factors and obstacles encountered during the work execution.
Sustainability so as to assess whether the employee has a lasting benefit after the performance
What do you have to gain by adopting proper performance appraisal programmes?
MNC Consulting Group HRM Limited is a firm that understands employee's capabilities are different and thus there is a need to evaluate their output differently. The success of every organization highly relies on the productivity of its employees. However, the baseline of each appraisal program that we advocate for is that it must not remain a buzzword. To this effect, we have proudly assisted our clients to;
Measure and report on outputs that reflect the critical stated objective of their employees.
Provide a clear indicator on the strengths and weaknesses of their.
Identify the key issues and root of the problems that their employees want to be addressed.
Build on employee's strengths and weaknesses.
Help in identifying the core competencies of their employees.
Set realistic objectives for human resource management planning.
Maintain proper records in order to determine the compensation packages and wage structure.
Build on their employees' career developments.
In light of the complexity posed by the different appraisal programs, we have a team of experts recognized internationally and globally to arrive at solutions that are aimed at improving the overall employee performance. We have adopted to the flexibilities required by our clients in spite of the difficulties. Performance appraisal will continue to be an essential tool for high performing organizations that want to attract and retain experienced, skilled and talented workforce.