Performance Appraisal
Performance appraisal is a structured and systematic evaluation and assessment of the performance of the employees to understand the capabilities of an individual for further growth and development. It plays a key role in efficiently managing human resources. However, it helps in improving and boosting employee productivity by evaluating employee skills application in relation to their strengths and weakness.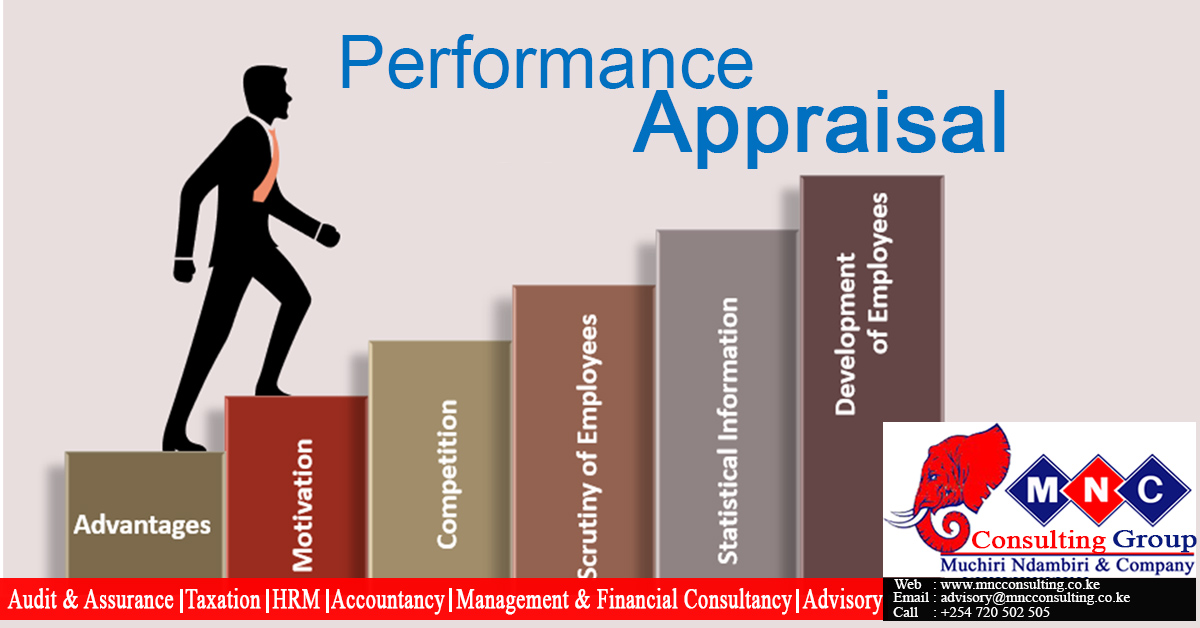 At MNC, we have established a systematic way in which we assist clients in evaluating their employee's performance. These ways include;
Assisting our clients in measuring the pay of their employees and comparing them with their business targets and plans
Analyzing results behind their employee's work performance
Advising our clients on how to guide their employees for better performance in their firm's
Purposes of conducting/carrying out performance evaluation/appraisal in an organization.
Helps in identifying the strengths and weaknesses of employees to ensure that you have the right people/employee for the job
It helps in determining the compensation packages and salary raises for the employees
Performance appraisal helps in assessing the potential and capabilities of an employee to further growth and development.
Through performance appraisal employers is able to give feedback to their employees regarding their performance in the organization.
Performance appraisal influences the working habits of the employees
Benefits of performance appraisal in an organization.
Performance appraisal helps in analyzing the individual performance and how the employee's individual roles will affect the organization's teamwork.
Performance appraisal is an effective way of promoting employees based on their performance merit.
Through performance appraisal employer can easily identify the under-performer and thus help in reducing the cost associated with redundancy at work
Why consult us
At MNC, we understand that employees' capabilities are different and thus their output should be evaluated differently. Therefore, we have adopted a program that is result-oriented and that meets the objectives of performance appraisal. We therefore proudly assist our client;
Identify the strengths and weaknesses of their employees to ensure that they have the right employees for the job.
Determine the compensation packages and salary raises of their employees
Assess the potential and capabilities of their employees to further their growth and development.
Make a valid decision when it comes to laying off some of their employees
Performance appraisal is an essential tool for high-performing organizations that want to attract and retain an experienced, skilled, and talented workforce. Our team of experts has gained a great reputation for coming up with solutions that are aimed at improving the overall employee performance.
Reach out to us today and growth your business by regularly carrying our your employees performance appraisal.